Drama and lots of it, that may as well sum up this Allstate Sugar bowl. Alabama was a shoo in for this years semi playoff showdown in New Orleans. Ohio State, well..that was a different story.
Their story is all about of luck, which went all to Ohio State as they fought hard for that final bid in the big game. If all the elements of drama were in the role of one team, it no doubt has to go to those Buckeyes.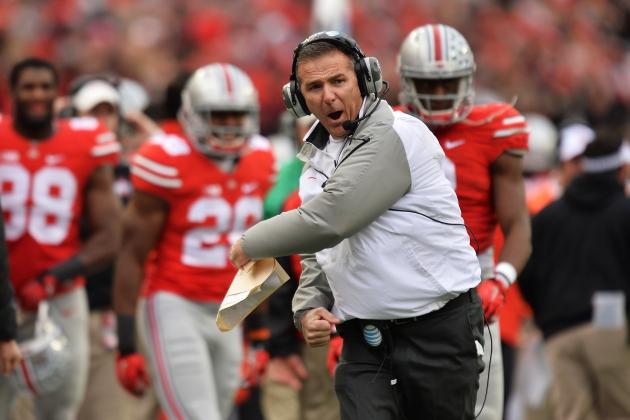 Maybe a Cinderella Story in the Works?
The Buckeyes saw their great hope, quarterback Braxton miller go down to injury before the season even began. The team was lucky to have a talented and gritty backup in J.T. Barrett, who took a shaky team early on in the season and used a steady hand to guide them to the end. He was well on his way into the Heisman hype but an injury sadly sidelined him as well. Heres the kicker though, who would have thought that a mere third stringer, Cardale Jones, would have assumed such a huge role at a time of the season when the pressure just simply suffocates and leads a team to blowout victory of 59-0 over Wisconsin in the Big Ten Championship game that eventually sent the Buckeyes to revel in their playoff dreams.
The other side of the coin toss is, Alabama, who suffered just one loss against Ole' Miss but eventually as the year progressed, started looking like the Crimson tide of old. They put some ridiculous victories up against LSU, a home game against mississippi State and a beaut of a game against a certified formidable team in the Auburn Tigers. It was the SEC Championship game that had Alabama walking the large strides into the playoff scenario.
When it comes down to the nitty gritty and if Ohio State has a chance in you know what, and to kick dirt in the face of a team that is loaded with the very best in defensive coordinators in the game and who plan on making this particular game a defensive work of art, is do their very best in making the offense of Alabama look pedestrian and one dimensional. If they can pull such a tall order out of the hat, they will be working it head-to-head with the big dogs.
A Slugfest Just Waiting to Happen
If you can't feel any sense of magic in this matchup, you haven't been paying attention to these two teams and the storylines behind their season. The Sugar Bowl is going to be all that and a heck of a whole lot more.