For many college football fans, the 2014 Sugar Bowl on January 2nd at the Superdome in New Orleans, LA whoever and anyone but the Alabama Crimson Tide. At the start of the season, the Crimson Tide sere favored to be playing in the BCS National Championship game. On the other side of the field, the Oklahoma Sooners enter the game with nothing to lose and everything to gain. Because no one expects the Sooners to beat the best team in the nation, Oklahoma can leave it all on the field.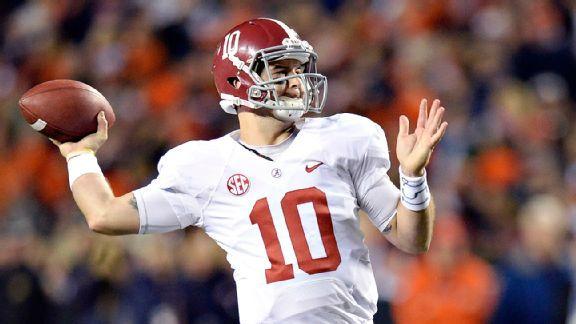 For the Crimson Tide, 2014 was supposed to be a year to enter the record books as the only team to win three straight National Championships. However, the decision to go for a field goal with only seconds remaining in a tie game against the Auburn Tigers proved to be the difference between Pasadena and the Sugar Bowl. By now, everyone has seen the highlights from Alabama's heartbreaking 34-28 defeat to Auburn when a missed field goal was returned the length of the field for a game winning touchdown. Despite their loss, many felt that Alabama was the best team in college football this season and for good reason. In addition to being one of the best rushing teams in the nation with more 200 yards per game, the Crimson Tide ranked 17th for points for at 39 and 2nd for points against with only 11.3 allowed per game. At the helm, the Crimson Tide are led by Heisman Trophy finalist AJ McCarron who once again proved why he is one of the most consistent signal callers in all of football with 2676 passing yards and 26 touchdowns.
The 11-2 Oklahoma Sooners finished their season strong with a victory over #6 Oklahoma State in the Big 12 Championship Game. The Sooners have had an impressive season with victories over then ranked opponents including Notre Dame, Texas Tech and Oklahoma State. Against Alabama, the Sooners will look to open the field with big runs led by the nation's 18th best rushing attack with 235 yards per game. The Sooners feature the 23rd best defense for points against at 21.3' however, they have struggled to contain ranked teams. In their four games against ranked opponents, the Sooners gave up an average of 36 points per game.
Expect the Crimson Tide to come in to this game with a chip on their shoulder. Despite the valiant efforts of the Oklahoma Sooners, the Alabama Crimson Tide will win the 2014 Sugar Bowl in a lopsided victory.